You are here
Life Gallery Interpreter Training
Bone Up on the Life Gallery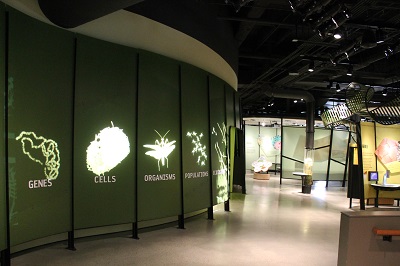 Greetings ecology enthusiasts and welcome to the Life Gallery online training page! Here you'll find supplemental information pertaining to the Life Gallery, it's five exhibits including Genes, Cells, Organisms, Populations, and Ecosystems along with the Naturalist Lab and Life Terrace. Please dig in and discover the many wonders biology and the Life Gallery have is store for you.
Life Gallery
Life Gallery Introduction video (In Development)
Jump To:
---
Life Gallery Activities
Skull Boxes
---
A gene is a molecular unit of heredity of a living organism. All living creatures have specific genes which make them what they are. The Genes section of the Life Gallery focuses on the the genes that differentiate all living things. You may find that we are not so different from a tree...
Visit the University of Utah Genetics website for an intuitive introduction of Genes.
What Are Genes?
All living beings have genes. Genes are a set of instructions that determine what the organism is like, its appearance, how it survives, and how it behaves in its environment.
The genes lie in long strands of DNA (deoxyribonucleic acid) called chromosomes. Humans have 23 pairs of chromosomes - or a total of 46. A donkey has 31 pairs of chromosomes, a hedgehog has 44, and a fruit fly has just 4.
Genes carry the codes ACGT. We have thousands of genes. They are like our computer program and make each one of us what we are. A gene is a tiny section of a long DNA double helix molecule, which consists of a linear sequence of base pairs. A gene is any section along the DNA that has instructions encoded that allow a cell to produce a specific product - usually, a protein, such as an enzyme - that triggers one precise action. There are between 50,000 and 100,000 genes, and every single gene is made up of thousands, even hundreds of thousands, of chemical bases.
Chromosomes comes from the Greek Chroma, which means color, and Soma, which means body (chromosomes are stained very strongly by some dyes). Chromosomes are the long strands of DNA. They are organized structures of DNA and protein and are found in cells. Humans have 23 pairs of chromosomes. An enormous number of genes lie in each chromosome strand. Scientists say that a chromosome is a single piece of DNA which has many genes, regulatory elements and other nucleotide sequences (sequences of the letters ACGT).


A chromosome consists of DNA and has proteins attached to it. These chromosomes are located in your body's cells, which then contain this important genetic information held in the long strands of DNA.
Our Genetic Code
We get our genes from our parents. Inheritance of physical traits and susceptibility to certain diseases and conditions may be inherited from a grandparent. An article in the journalEndocrinology (May 2013 issue) reported that susceptibility to obesity may be inherited from the grandmother.

Scientists say that a gene is a basic unit of heredity in a living organism. Anything that lives depends on genes. They possess the data to build and maintain cells and pass genetic information to offspring.
Each of your cells contains two sets of chromosomes - one set came from your mother while the other came from your father - male sperm and the female egg carry a single set of 23 chromosomes each - 22 autosomes and an X or Y sex chromosome. If you are female you inherited an X chromosome from each parent - if you are male you inherited an X chromosome from your mother and a Y from your father.
Making Proteins
Proteins, like DNA, are complicated molecules made up by sticking simple building blocks together in a chain. The Proteins are made of more types of building blocks than DNA. 20 kinds of amino acids are involved in making most proteins. Each type of amino acid can perform a different job. Some act like scaffolding, some keep the protein dissolved in water and others take part in the chemical processes that the protein controls.
The next great discovery in genetics, after the structure of the DNA molecule, was the way in which the sequence of DNA bases on the chain carry the information on how to make proteins. The cell first makes a copy of the DNA instructions. The DNA instructions contain a region which controls how often a copy is made. The copy is made of a different type of nucleic acid called RNA.
The RNA copy is moved to the protein making machinery in the cell which is called the "ribosome". Every set of three RNA bases in a row control which amino acid is to be added to a growing protein molecule. A special three base code (usually ATG) tells the ribosome where the instructions on how to make the protein begin in the sequence. The copy of the DNA chain passes through this protein making machinery like a tape through a tape player. The ribosome, however, produces protein instead of sound!
---
Every living organism is composed of either a single cell or groups cells that work together. In complex organisms, the cells symbiotically work toward a common task such as blood delivering oxygen to cells throughout your body or nerve cells which transmit signals to and from your brain.
What Are Cells?
Cells are the structural and functional units of all living organisms. Some organisms, such as bacteria, are unicellular, consisting of a single cell. Other organisms, such as humans, are multicellular, or have many cells—an estimated 100,000,000,000,000 cells! Each cell is an amazing world unto itself: it can take in nutrients, convert these nutrients into energy, carry out specialized functions, and reproduce as necessary. Even more amazing is that each cell stores its own set of instructions for carrying out each of these activities.
It appears that life arose on earth about 4 billion years ago. The simplest of cells, and the first types of cells to evolve, were prokaryotic cells—organisms that lack a nuclear membrane, the membrane that surrounds the nucleus of a cell. Bacteria are the best known and most studied form of prokaryotic organisms, although the recent discovery of a second group of prokaryotes, called archaea, has provided evidence of a third cellular domain of life and new insights into the origin of life itself.
Prokaryotes are unicellular organisms that do not develop or differentiate into multicellular forms. Some bacteria grow in filaments, or masses of cells, but each cell in the colony is identical and capable of independent existence. The cells may be adjacent to one another because they did not separate after cell division or because they remained enclosed in a common sheath or slime secreted by the cells. Typically though, there is no continuity or communication between the cells. Prokaryotes are capable of inhabiting almost every place on the earth, from the deep ocean, to the edges of hot springs, to just about every surface of our bodies.
Prokaryotes are distinguished from eukaryotes on the basis of nuclear organization, specifically their lack of a nuclear membrane. Prokaryotes also lack any of the intracellular organelles and structures that are characteristic of eukaryotic cells. Most of the functions of organelles, such as mitochondria, chloroplasts, and the Golgi apparatus, are taken over by the prokaryotic plasma membrane. Prokaryotic cells have three architectural regions: appendages called flagella and pili—proteins attached to the cell surface; a cell envelope consisting of a capsule, a cell wall, and a plasma membrane; and a cytoplasmic region that contains the cell genome (DNA) and ribosomes and various sorts of inclusions.
What are Cells? -SciTable by Nature Education
Cellular Replication
Each of us began as a single cell. This cell couldn't move, think, see, or do things like laugh and talk. But the one thing it could do, and do very well, was divide—and divide it did. The lone cell became two, and then four, then eight and so on, in time becoming the amazing person that is you. Think of how far you've come. You can laugh at a joke, stand on your head, read a book, eat an ice cream cone, hear a symphony, and do countless other things.
In this chapter, we will discuss how cells divide, a topic that has fascinated scientists since they first observed it through a microscope more than 100 years ago. Scientists can actually watch cells divide under the microscope, and they have been able to figure out the rules of division by carefully observing the process, much as someone could gradually learn the rules of a game like football or chess by watching it played repeatedly.
But you don't need your own microscope to see cells dividing. By hooking up cameras to their microscopes, scientists have produced stunning images of the process.
Mitosis - YouTube
There are two kinds of cell division: mitosis and meiosis. Mitosis is essentially a duplication process: It produces two genetically identical "daughter" cells from a single "parent" cell. You grew from a single embryonic cell to the person you are now through mitosis. Even after you are grown, mitosis replaces cells lost through everyday wear and tear. The constant replenishment of your skin cells, for example, occurs through mitosis. Mitosis takes place in cells in all parts of your body, keeping your tissues and organs in good working order.
Meiosis, on the other hand, is quite different. It shuffles the genetic deck, generating daughter cells that are distinct from one another and from the original parent cell. Although virtually all of your cells can undergo mitosis, only a few special cells are capable of meiosis: those that will become eggs in females and sperm in males. So, basically, mitosis is for growth and maintenance, while meiosis is for sexual reproduction.
Cellular Replication - National Institure of General Medical Studies
Your body carefully controls which cells divide and when they do so by using molecular stop and go signals. For example, injured cells at the site of a wound send go signals to the surrounding skin cells, which respond by growing and dividing and eventually sealing over the wound. Conversely, stop signals are generated when a cell finds itself in a nutrient-poor environment. Sometimes, however, go signals are produced when they shouldn't be, or stop signals aren't sent or heeded. Both scenarios can result in uncontrolled cell division and cancer. Mitosis then becomes a weapon turned against the body, spurring the growth of invasive tumors.
Fortunately, it takes more than one mistaken stop or go signal for a cell to become cancerous. Because our bodies are typically quite good at protecting their essential systems, it usually requires a one-two punch for healthy cells to turn malignant. The punches come in the form of errors, or mutations, in DNA that damage a gene and result in the production of a faulty protein. Sunlight, X rays and other radiation, toxins such as those found in cigarette smoke and air pollution, and some viruses can cause such mutations. People also can inherit mutations from their parents, which explains why some families have higher rates of certain cancers: The first punch is delivered at conception. Subsequent mutations can then push a cell down the path toward becoming cancerous.
Ironically, mitosis itself can cause mutations too, because each time a cell's DNA is copied, errors are made. (Fortunately, almost all of these errors are corrected by our extremely efficient DNA repair systems.) So there's an inherent tradeoff in mitosis: It allows us to grow to maturity and keeps us healthy, but it's also the source of potentially damaging DNA mutations.
Cellular Replication and Cancer - Genentech
Cancer
Cancer is a class of diseases characterized by unregulated cellular growth and division. There are over 100 different types of cancer, and each is classified by the type of cell that is initially affected.
Cancer harms the body when damaged cells divide uncontrollably to form lumps or masses of tissue called tumors (except in the case of leukemia where cancer prohibits normal blood function by abnormal cell division in the blood stream). Tumors can grow and interfere with the digestive, nervous, and circulatory systems, and they can release hormones that alter body function. Tumors that stay in one spot and demonstrate limited growth are generally considered to be benign.
scientists reported in Nature Communications (October 2012 issue) that they have discovered an important clue as to why cancer cells spread. It has something to do with their adhesion (stickiness) properties. Certain molecular interactions between cells and the scaffolding that holds them in place (extracellular matrix) cause them to become unstuck at the original tumor site, they become dislodged, move on and then reattach themselves at a new site.
The researchers say this discovery is important because cancer mortality is mainly due to metastatic tumors, those that grow from cells that have traveled from their original site to another part of the body. Only 10% of cancer deaths are caused by the primary tumors.
Cancer is ultimately the result of cells that uncontrollably grow and do not die. Normal cells in the body follow an orderly path of growth, division, and death. Programmed cell death is called apoptosis, and when this process breaks down, cancer begins to form. Unlike regular cells, cancer cells do not experience programmatic death and instead continue to grow and divide. This leads to a mass of abnormal cells that grows out of control.
Keratin
Keratin is one of the most versatile structural proteins, keatins come in many forms. Some, like those that from tthe claws of reptiles and the beaks of birds, are hard and tough. Others, like those that form hair and fur are soft and flexible. Despite their amazing diversity, keratins have common ancestors. The keratins that make up baleen in the mouths of whales are derived from the ancestors of those that form human hair and turtle shells.
Whale Baleen
Filter-feeding whales have over 200 rows of long, fine and bristled baleen plates hanging from their jaws. These serve as combs for catching copepods and krill. Much like your hair, baleen grows throughout a whale's life.
Depending on the species, a baleen plate can be 1.6 to 11 ft long, and weigh up to 200 lb. Its hairy fringes are called baleen hair or whalebone-hair. They are also called baleen bristles, which in some whales are highly calcified, calcification functioning to increase their stiffness.
The baleen plates are worn down by the whale's tongue, but they also grow back like fingernails. Whales have hundreds of baleen plates. For example, the humpback whale has 400 baleen plates, each of which is 25 inches to 30 inches long, 13 inches wide and less than 0.2 inches thick.
On one side of the plates are coarse bristles. These bristles vary in length and thickness, but they all help the whales to trap small fish, krill and plankton. These prey items are abundant in colder waters, and the baleen's large size allows it to take advantage of the abundant prey and store the energy. The larger baleen whales eat approximately 4 percent of their body weight each day. Each type of baleen whale has a specific prey and a particular method of obtaining it. In other words, one filter does not feed all.
Rorqual whales are gulpers, which means they take big swallows, find the food and filter out all the excess water. Think about the biggest swig of soda you've ever taken -- it would be no match for the rorqual whales. They take the expression "open wide" to a new level with their throat grooves. These expandable pieces of skin get so big that rorquals can take in about 18,000 gallons (68,137 liters) of water, a volume equal to a school bus.
To start this process, the rorqual whale descends several hundred feet below the surface. It swims fairly fast until it opens its mouth. At this point, the throat grooves, which are pleated like a skirt, expand so that their mouth forms a huge sac, like a parachute. While this allows huge amounts of prey to enter, it also creates tremendous drag on the whale. One sip more than doubles the whale in size for a few seconds and weighs more than it does. When the whale closes its mouth, the water is filtered through the stringy baleen before it exits back out the side of the mouth.
Whale Baleens & Baleen Whales - How Stuff Works
Horns
Although the words horn and antler are often used interchangable, these animal parts really are different. antlers are made up of bone and are shed annually. Horns are permanent and made up of a boney core covered in a keratin sheath.
Horns are hollow horny sheaths enclosing pointed bony cores that arise from the front of the skull. These sheaths are made of keratin, the same substance as our fingernails. They continue to grow throughout the life of the animal and are never shed. Horns are commonly found in both sexes of a species and are always in pairs. The unicorn, that one-horned creature pictured in the British royal coat of arms is strictly mythological.
Scales and Shells
Keratin is found in Scales and Shells of various reptiles, mammles and amphibians.
Pangolin
A pangolin is a mammal of the order Pholiodota. The one extant family, Manidae, has one genus, Manis, which comprises eight species. A number of extinct species are also known. A pangolin has large keratin scales covering its skin, and is the only known mammal with this adaptation. It is found naturally in tropical regions throughout Africa and Asia. The name, pangolin, comes from the Malay word, pengguling, meaning "something that rolls up".
The physical appearance of a pangolin is marked by large, hardened, plate-like scales. The scales, which are soft on newborn pangolins but harden as the animal matures, are made of keratin, the same material of which human fingernails and tetrapod claws are made. The pangolin's scaled body is comparable to a pine cone or globe artichoke. It can curl up into a ball when threatened, with its overlapping scales acting as armour and its face tucked under its tail. The scales are sharp, providing extra defense. The front claws are so long they are unsuited for walking, so the animal walks with its fore paws curled over to protect them. Pangolins can also emit a foul and unpleasent noxious-smelling acid from glands near the anus, similar to the spray of a skunk. Pangolins, though, are not able to spray this acid like skunks. They have short legs, with sharp claws which they use for burrowing into termite and ant mounds, as well as climbing.
Hair Whiskers and Quills
While hair contains water, lipids, traces of mineral elements and melanin , it is keratin which is its main constituent. Its organisation within the cortex is so reminiscent of a rope or a cable that it is almost worrying. Hair is incredibly strong. Each hair can withstand the strain of 100 grams, meaning that an average head of 120,000 hairs could cope with 12 tons, if the scalp were strong enough! Performance which is due to the amazing way the keratin is organised in the cortex.
Keratin is the essential component of hair. It is a protein formed by the combination of 18 amino acids , among which cysteine deserves special mention, being rich in sulphur and playing an important role in the cohesion of the hair.
It is produced by the keratinocytes . These cells, situated in the bottom of the dermal papilla, multiply and differentiate:
while some spread to the periphery of the hair follicle to form the internal and external epithelial sheaths, others become elongated to form the hair shaft. During this journey they fill with keratin fibres. As soon as they have filled with keratin, the keratinocytes die. Thus, after a journey of about 0.5 mm inside the root, the hair is definitively formed, and during the remainder of its life does not receive any further supply from the tissue which created it.
Within the body of the hair, the cortex, the keratin is organised into protofibrils, composed of 4 chains of keratin. This assembly is held together by bonds or bridges between the atoms of the different chains. These bonds may be of variable strength: weak bonds such as hydrogen bonds can be distinguished from the stronger ionic bonds and sulphur bridges. It is by acting on these bonds that the shape of the hair can be modified.
Melanin is responsible for the natural colour of hair. Produced deep in the root by the melanocytes, it is then transmitted to the keratinocyte as the hair is formed. Meaning that hair is coloured right from the outset. The immense range of natural hair colour is absolutely astonishing. However, melanin only represents 1% of the total composition of the hair and only exists in the form of two pigments: eumelanin, rather dark, and phaeomelanin, rather lighter.
Beaver Hair
Beavers have long hairs called guard hairs. The guard hairs protect the beavers thick fur that is underneath. These furs are heavy and help the beaver stay warm in the icy water. The beaver combs these hairs with its split claw on the hind legs. This helps it stay clean. While the beaver is combing, its hair the glands in its body make oil which helps keep the coat of the beaver clean and shinny.
Porcupine Quills
A porcupine's quills are just extremely enlarged specialized hairs that have unusually (compared to other mammals) thick layers of keratin, which is the main structural component of hair and finger nails, among other things. These thick layers of keratin make porcupine quills extremely rigid and good for poking things.
Whiskers
Dogs have a set of stiff hairs protruding from the sides of their muzzles that are popularly called "whiskers." These are not at all like the nonfunctional whiskers that men sometimes grow on their faces and they are technically called vibrissae. Cats have similar hairs and people often refer to these as "feelers" and this may be a better name since vibrissae really are sophisticated devices that help the dog feel its way through the world. They are quite different from most other hairs on the dog's body, since they are considerably more rigid and embedded more deeply into the skin. At the base of each vibrissa is a high concentration of touch sensitive neurons.
Vibrissae are found in a variety of other animals including cats, rats, bears, and seals, which suggests that they must serve a useful function. One way to determine how important something is to animal is to see how much of the brain it uses. Of those areas of the brain that register touch information in the dog, nearly 40 percent of it is dedicated to the face, with a disproportionately large amount of that dedicated to the regions of the upper jaw where the vibrissae are located. You can actually map each individual vibrissa to a specific location in the dog's brain, suggesting that great importance is assigned to information from these structures.
With cats, these hairs are attached to nerves allowing them to work as extremely sensitive sensory receptors. The nerves at the base of the whiskers are actually sensitive enough to be able to pick up even small air movements which vibrate the whiskers. They are so sensitive that cats can even pick up air movements indoors, such as air flowing around furniture, which lets the cat know there is an object there, even when it is pitch dark. This is essential for cats because they are far sighted and have trouble seeing things clearly close up.
Feathers
Photosynthesis
The primary source of energy for nearly all life is the Sun. The energy in sunlight is introduced into the biosphere by a process known as photosynthesis, which occurs in plants, algae and some types of bacteria. Photosynthesis can be defined as the physico-chemical process by which photosynthetic organisms use light energy to drive the synthesis of organic compounds. The photosynthetic process depends on a set of complex protein molecules that are located in and around a highly organized membrane. Through a series of energy transducing reactions, the photosynthetic machinery transforms light energy into a stable form that can last for hundreds of millions of years. This introductory chapter focuses on the structure of the photosynthetic machinery and the reactions essential for transforming light energy into chemical energy.
Photosynthesis is the physico-chemical process by which plants, algae and photosynthetic bacteria use light energy to drive the synthesis of organic compounds. In plants, algae and certain types of bacteria, the photosynthetic process results in the release of molecular oxygen and the removal of carbon dioxide from the atmosphere that is used to synthesize carbohydrates (oxygenic photosynthesis). Other types of bacteria use light energy to create organic compounds but do not produce oxygen (anoxygenic photosynthesis). Photosynthesis provides the energy and reduced carbon required for the survival of virtually all life on our planet, as well as the molecular oxygen necessary for the survival of oxygen consuming organisms . In addition, the fossil fuels currently being burned to provide energy for human activity were produced by ancient photosynthetic organisms. Although photosynthesis occurs in cells or organelles that are typically only a few microns across, the process has a profound impact on the earth's atmosphere and climate. Each year more than 10% of the total atmospheric carbon dioxide is reduced to carbohydrate by photosynthetic organisms. Most, if not all, of the reduced carbon is returned to the atmosphere as carbon dioxide by microbial, plant and animal metabolism, and by biomass combustion. In turn, the performance of photosynthetic organisms depends on the earth's atmosphere and climate.
Photosynthesis Tube
When we (humans) breath, we use oxygen and give off carbon dioxide in a process called respiration. Plants, trees and algae use carbon dioxide and give off oxygen in a process called photosynthesis. These two cycles create what is known as an interdependent relationship; plants rely on animals for carbon dioxide and animals rely on plants for oxygen. In a closed environment such as the space shuttle, humans use oxygen at a rate that is difficult to replace with plants alone given limited space.
Plants grow and thrive through photosynthesis, a process that converts sunlight into energy. During photosynthesis, plants emit what is called fluorescence – light invisible to the naked eye but detectable by satellites orbiting hundreds of miles above Earth. NASA scientists have now established a method to turn this satellite data into global maps of the subtle phenomenon in more detail than ever before.
Seeing Photosynthesis - NASA.gov
What is in the Photosynthesis tube?
Water Lilies - Aquaplant.tamu.edu

The white water lily is a perennial plant that often form dense colonies. The leaves arise on flexible stalks from large thick rhizomes. The leaves are more round than heart-shaped, bright green, 6 to 12 inches in diameter with the slit about 1/3 the length of the leaf. Leaves usually float on the water's surface. Flowers arise on separate stalks, have brilliant white petals (25 or more per flower) with yellow centers. The flowers may float or stick above the water and each opens in the morning and closes in the afternoon. The flowers are very fragrant. White water lily can spread from seeds or the rhizomes.

Volvox- UK Microscopy

The Volvox … is a freshwater organism, visible to the naked eye as a green speck about the size of a pinhead. It is indetermimately both plant and animal: zoologists class it among protozoa, and botanists among algae. Its reproductive cells are differentiated from its other cells, a fact considered significant in tracing the evolution of higher animals from protozoa

Elodea- Texas A&M

Elodea is a rooted multi-branched perennial plant but can survive and grow as floating fragments. The dark green blade-like leaves (3/5 inch long and 1/5 inch wide) are in whorls of three with finely toothed margins. The flowers of Elodea have three white petals with a waxy coating that makes them float.

Submerged portions of all aquatic plants provide habitats for many micro and macro invertebrates. These invertebrates in turn are used as food by fish and other wildlife species (e.g. amphibians, reptiles, ducks, etc.). After aquatic plants die, their decomposition by bacteria and fungi provides food (called "detritus") for many aquatic invertebrates. Elodea has no known direct food value to wildlife but is used extensively by insects and invertebrates.
---
An organism is defined as an individual living thing that can; react to stimuli, reproduce, grow, and maintain homeostasis. It can be a virus*, bacterium, protist, fungus, plant or an animal.
Salt Lake County Brown Tarantula
Size: 2 to 3 inches, 4 inch legs
Longevity: 3 years (male), 20 years (female)
Distribution: California, Nevada, and Utah
Diet: Beetles, grasshoppers, other spiders, small lizards
Habitat: Desert, mountains
Ecological Role: Predator
Predators: Tarantula hawks, coyotes, birds, lizards
Venomous: Yes, harmless to humans, like a bee sting
Sleep Behavior: Nocturnal
Salt Lake County Brown Tarantula are the largest spiders in North America. They are typically two to three inches long and are covered in fine hair ranging in color from tan to dark brown. They have a dark triangle surrounding the eye turret on the carapace which is a diagnostic tool for recognizing this tarantula. They live in holes covered in web.
Our Tarantula FAQ (Frequently Asked Questions)
Is the Tarantula a boy or a girl?

She is a girl. Female Tarantulas tend to live longer than Male Tarantuas.

What type of Tarantula is she?

She is a Salt Lake County Brown Tarantua

What is her name?

Her Name is Torrey (named after the small, southern Utah town)

Where is she from?

She was captured on the grounds of the museum
*Viruses are classified as Non-Living Organisms since they cannot reproduce outside a host.

---
Populations are groups of individuals belonging to the same species that live in the same region at the same time. Populations, like individual organisms, have unique attributes such as
growth rate,
age structure,
sex ratio and/or
mortality rate.
Populations change over time due to births, deaths, and the dispersal of individuals between separate populations. When resources are plentiful and environmental conditions appropriate, populations can increase rapidly. A population's ability to increase at its maximum rate under optimal conditions is called its biotic potential. Biotic potential is represented the letter r when used in mathematical equations.
What are Biological Populations?
Speciation
Speciation is the evolutionary process by which new biological species arise. The biologist Orator F. Cook seems to have been the first to coin the term 'speciation' for the splitting of lineages or "cladogenesis," as opposed to "anagenesis" or "phyletic evolution" occurring within lineages. Whether genetic drift is a minor or major contributor to speciation is the subject matter of much ongoing discussion.
There are four geographic modes of speciation in nature based on the extent to which speciating populations are isolated from one another: allopatric, peripatric, parapatric, and sympatric. Speciation may also be induced artificially, through animal husbandry, agriculture, or laboratory experiments. Observed examples of each kind of speciation are provided throughout.
For more information on Speciation and its four geographic modes please visit UC Berkeley on speciation:
Sticklebacks
Three-spine sticklebacks are small fish that live in oceans, streams, and lakes across the northern hemisphere. Sticklebacks that live in freshwater lakes often look quite different from their ocean-dwelling cousins. One difference is the amount of protective armor that covers their bodies: while oceanic sticklebacks have about 30 armor plates extending from head to tail, most freshwater sticklebacks have just a handful of plates that sit closer to the front of the body.
Low-armored forms of sticklebacks evolve in freshwater environments again and again. Given how quickly these shifts occur, the freshwater environment is most likely selecting for low-armored gene variants that are already present at a low frequency in ocean populations. When a group of fish moves from the ocean to fresh water, the low-armored variants survive and reproduce at a higher rate than the fully armored individuals. Here's why:
Predation by saltwater fish favors more armor.
Predation by insect larvae that live in fresh water favors faster-moving fish with less armor.
Low-armor forms grow faster, making them (1) too big for predators, (2) reach sexual maturity more quickly, and (3) able to store more energy reserves, which increases their chance of overwinter survival.
University of Utah Genetics - Sticklebacks
Harvester Ants
Description: Worker ants are 1/4 to 1/2-inch long and red to dark brown. They have square heads and no spines on the body. There are 22 species of harvester ants in the United States with most occurring in the west. Worker harvester ants are often sold as inhabitants of ant farms.
Life Cycle: Winged males and females swarm, pair and mate. Males soon die and females seek a suitable nesting site. After dropping her wings, the queen ant digs a burrow and produces a few eggs. Larvae hatch from eggs and developed through several stages (instars). Larvae are white and legless, shaped like a crookneck squash with a small distinct head. Pupation occurs within a cocoon. Worker ants produced by the queen ant begin caring for other developing ants, enlarge the nest and forage for food.
Habitat, Food Source(s), Damage: Mouthparts are for chewing. Red harvester ant foragers collect seeds and store them in their nests. In addition to seeds, dead insects are also collected for food. Nests occur in open areas. Often there is no vegetation within a 3 to 6 feet circular around the central opening of their colony and along foraging trails radiating from the colony. Heavy infestations in agriculture may reduce yield but colonies are usually widely separated. They do not invade homes or structures.
Pest Status: Worker ants can bite and produce a painful sting but are generally reluctant to sting. Effects of the stings can spread along lymph channels and may be medically serious; worker ants remove vegetation in circular areas or craters around nests. Harvester ant workers are commonly sold for ant farms.
Biogeography
Biogeography is a branch of geography that studies the past and present distribution of the world's many species. It is usually considered to be a part of physical geography as it often relates to the examination of the physical environment and how it affects species and shaped their distribution across space. As such it studies the world's biomes and taxonomy - the naming of species. In addition, biogeography has strong ties to biology, ecology, evolution studies, climatology, and soil science.
The Tree of life
Selected Information

Under the Dome (Organisms on Exhibit)
The Grey Wolf
The Gray Wolf is the largest of the wild dogs. Adult male Gray Wolves in Montana weigh around 47 kilograms (104 pounds) and females weigh around 36 kilograms (80 pounds). Males average approximately 186 centimeters (73 inches) in length, while 180 centimeters (70 inches) is the average for females, with the tail compromising a little less than one-third of the total length in both sexes (Foresman 2001). About half the Gray Wolves in Montana are black with the other half gray. Both color phases may be found in a pack or in a litter of pups.
Although Gray Wolves dispersing from Canada were occasionally observed, they were essentially extirpated from Montana and the rest of the western United States in the early 1900s primarily due to conflicts with people. As a result, they were listed as Endangered under the Endangered Species Act in 1967. Gray Wolves started recolonizing the area around Glacier National Park in 1979 and the first den documented in Montana in over 50 years was found in Glacier National Park in 1986. In 1995 and 1996 Gray Wolves were reintroduced into Yellowstone National Park and central Idaho. Wolves resulting from these reintroductions and those dispersing naturally from northwestern Montana and Canada have now colonized most of western Montana. Gray wolves reached biological recovery goals for the Northern Rocky Mountains at the end of 2002 and were delisted in May of 2009. However, they were relisted as Endangered/Experimental Nonessential on August 5, 2010 by federal court order. Then, on May 5, 2011, they were again removed from the Endangered Species Act by the Secretary of the Interior at the direction of the President of the United States and Congress under a rider associated with the Department of Defense and Full-Year Appropriations Act of 2011.
Reintroduction Controversy
The federal government began subsidizing wolf extermination on federal lands in 1915, and the last known wolf den in Yellowstone—prior to the wolf's recent comeback—was destroyed in 1923. By the 1940s, the animals were extinct in the northern Rocky Mountains—shot, trapped or poisoned. (A few hundred remained in the United States, mostly in northern Minnesota, Wisconsin and Michigan.) Then, at the dawn of the modern conservation movement and "coinciding with the paving of America," says Thomas McNamee, author of the 1997 book The Return of the Wolf to Yellowstone, the wolf emerged as a symbol of the nation's vanishing wild heritage. It was among the first animals protected under the 1973 Endangered Species Act.
The idea of returning the gray wolf, Canis lupus (which can be gray, black or white), to Yellowstone goes back to the Nixon administration. Proponents have argued that the wolf was a keystone species whose presence would reinvigorate the natural order. Without it, they said, Yellowstone was incomplete, the West a bland facsimile of its old wild self. "We have a psychological need for something big and bad that represents wildness. Wolves fulfill that," said Jim Halfpenny, an ecologist and author who has been leading wildlife classes in the park for nearly 40 years. Western lawmakers resisted reintroduction at first but eventually agreed to the plan. A loophole in the wolves' endangered species status authorized U.S. wildlife officials to kill animals that preyed on livestock on federal land and permitted landowners to do the same on their property. The loophole did not apply to wolves in the park: they remained under the full protection of the Endangered Species Act, as did a small number of wolves that had begun moving on their own into northern Montana from Canada in the late 1970s.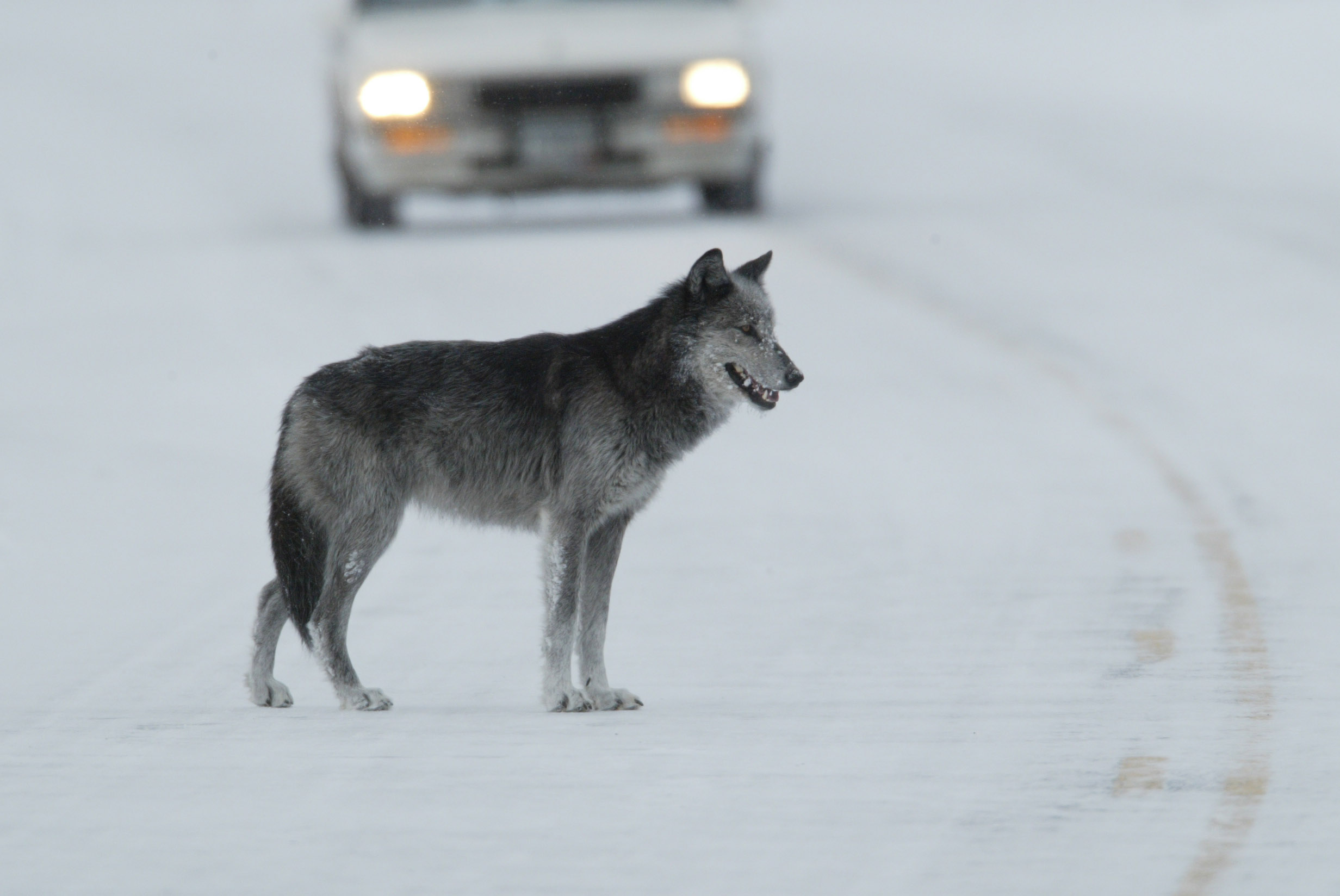 About the same time wolves were finally released in Yellowstone, three dozen others were also reintroduced in Idaho's Frank Church Wilderness. Both groups reclaimed old haunts with unanticipated gusto. Some of the park wolves scaled a ten-foot-high chain-link enclosure around their acclimation pen, and then dug under the fence to let out the rest of the wolves. Two traveled 40 miles within a week of gaining their freedom.
Unlike other large predators, such as grizzly bears and cougars, wolves are frequently labeled by the public with anthropomorphic terms such as "cruel" and "vicious," and often considered mere killers with no valuable role in the ecosystem. Ralph Maughan, a professor of political science at Idaho State University and president of the Wolf Recovery Foundation, thinks this is because grizzlies and cougars were never eradicated by humans and reintroduced the way wolves were – they were always here.
"It's a narrative of decline, like you might see in some newspaper stories: a ranching family who's lived on the ranch for generations," says Maughan. "Their forebears eliminated the wolf threat, and now the government dumps wolves back on their land because of people far away, and carnage occurs. Reintroduction of wolves is a symbol that people in occupations who don't like wolves are no longer respected."
Although wolves killed 500 sheep in Montana in 2003, coyotes killed 11,800, and disease, weather, eagles, bears, and foxes each proved to be greater threats to livestock. Yet wolves inspire even stronger feelings of anger in ranchers than grizzly bears.
In a Defenders of Wildlife press release about a July meeting in Albuquerque to discuss the reintroduction of the Mexican gray wolf, Fred Galley, owner of Rayny Mesa Ranch, described an attack in which wolves grabbed a cow and "proceeded to eat on her till she bled to death."
At the same meeting, Jane Ravenwolf of Sandia Park asked why death by wolves is more reprehensible than death by slaughterhouse, a question many wolf activists share.
The federal government currently does not compensate ranchers for livestock killed by wolves. Defenders of Wildlife, a nonprofit wildlife organization, only provides compensation for confirmed wolf kills.
Continue reading the article jyi.org
---
Ecosystems are communities of interacting organisms and the physical environment in which they live. They are the combination and interaction of the plants, animals, minerals, and people in any given area of the Earth. A small bog, a single sand dune, or a tiny patch of forest is an ecosystem. But ecosystems are also forests covering thousands of kilometers, a major river system, a desert. Every centimeter of the planet is part of an ecosystem. Maybe the most familiar natural ecosystems are our backyards or parks near our home. Below are the four ecosystems on which life in Utah most heavily depends:
---
Brilliant Birds!
Eagles Eye View!
Do you know of a great resource that belongs on this page? If so please email Echo Paixao